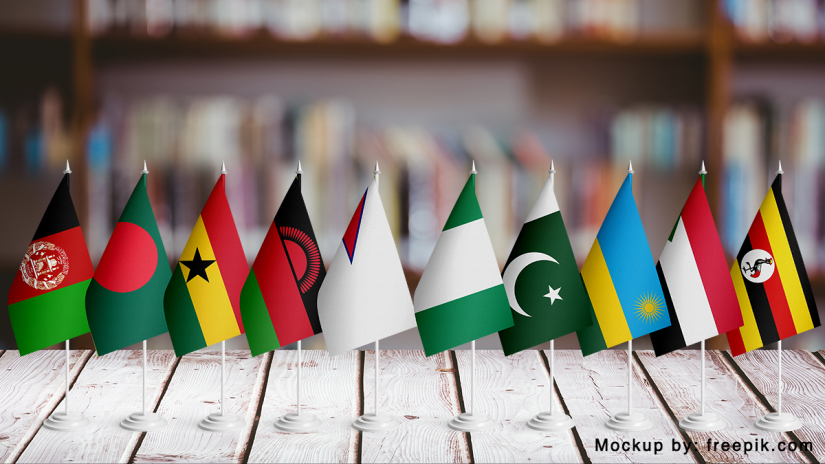 During the even semester of the academic year 2020/2021, INCULS had the opportunity to conduct an intensive Indonesian language course for international students enrolled in the Masters and Postgraduate programs at Universitas Gadjah Mada under the Gadjah Mada International Fellowship scheme. This program was held on May 10 until August 6, 2021.
Prior to the beginning of the course, students were required to take a placement test as an instrument to evaluate their Indonesian language skills and determine their levels. There were 20 students from Afghanistan, Bangladesh, Pakistan, Nigeria, Uganda, Malawi, Rwanda, Ghana, Nepal, and Sudan participating in the online test. The results of the placement test divided them into three groups. One of the students had advanced proficiency level, two students were intermediate, and seventeen students were in the beginner class. The teachers were all lecturers from Faculty of Cultural Science, Universitas Gadjah Mada.
The students in each level were taught Indonesian language skills including reading, grammar, vocabulary, writing, and conversation. The students were also engaged in interactive one-on-one tutorial sessions with Universitas Gadjah Mada students. These tutorials were for the students to practice their Indonesian language casually. The duration of both language class and tutorial combined was around 85-105 hours.
The Covid-19 pandemic made the course could not be held face to face. Therefore, all weekly INCULS classes are delivered in an online platform. These online classes are challenged by various problems as different time zones often require students and teachers to adjust their schedules. Internet connection also sometimes became an issue. These challenging circumstances require INCULS to adapt and maintain the effectiveness of its language learning services.
Based on the final evaluation of the program, although the situation was unprecedented, both teachers and students were satisfied with the class as a whole. Indeed, there are some aspects that need to be improved with the collaborative work of excellent teachers, enthusiastic students, and supportive staff for a better INCULS in the future.