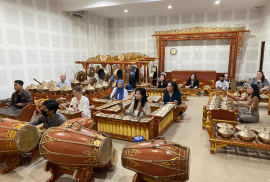 A day with INCULS–from learning bahasa Indonesia to playing gamelan.
Wednesday, June 7, 2023, INCULS welcomed 7 (seven) students from the University of Canberra, Australia. Came directly to Indonesia, they learned not only bahasa Indonesia but also Indonesia's culture.
Learning from the basic level, students got to experience conversing with native-Indonesian teachers. They learned how to introduce themselves. What's more fun, now, they know how to shop at pasar–even bargaining prices.
Apart from studying theoretically, students got to know Indonesia directly through practicing gamelan. Gamelan as one of Indonesia's heritage begins to show its presence to the world. read more