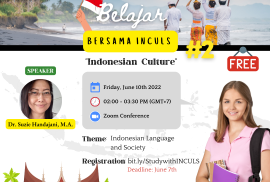 Warm greetings from INCULS UGM!
The second workshop from our Belajar Bersama INCULS series is here! The workshop is titled "Indonesian Language and Society", and it will be taught by Dr. Suzie Handajani, M.A.. The meeting is scheduled on Friday, June 10th 2022 at 02:00-03:30 PM (GMT+7) via Zoom Conference.
Register yourself FOR FREE through bit.ly/StudywithINCULS to enjoy the perks that we offer. We await your registration!
For more information, please get in touch with our social media accounts or email. read more