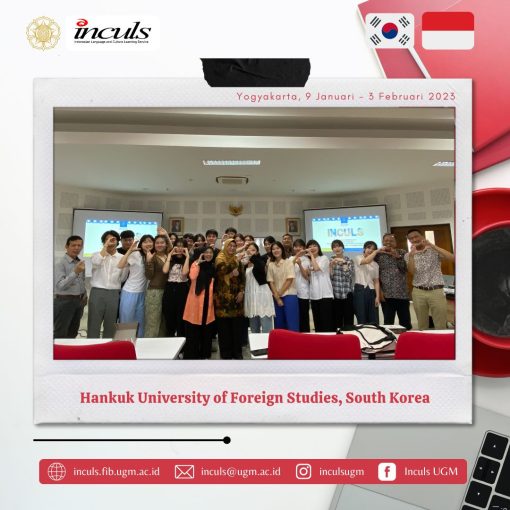 On, January 9th INCULS held an opening ceremony and welcomed 19 students from Hankuk Hankuk University of Foreign Studies – Seoul Campus. This program is an annual or bi-yearly which conducted to let the HUFS students experience learning Bahasa Indonesia and culture authentically. The students are from the Malay-Indonesian Translation and Interpretation Department at Hankuk University of Foreign Studies (HUFS). The course will assist them in having real-time learning with professors from INCULS (Indonesian language and culture teaching institute [BIPA] at UGM) this winter break.
At the opening ceremony, the students were given insights into what they are going to study at UGM. INCULS will provide them with a month's course. In the ceremony, INCULS Coordinator gave her speech and also introduced INCULS along with the lecturer to the students. The students also had their chance to introduce themselves. "Saya belajar Bahasa Indonesia karena saya suka bahasa asing dan belajar budaya asing." Said one of the students.
INCULS welcomes HUFS students to study in UGM. We hope all of you have the best experience and enjoyable learning.